Welcome to Halifax River Audubon, the oldest and largest of the three Audubon chapters in Volusia County, Florida. We offer a variety of information and services to our members and the community at large.

The Pelican, Our Monthly Electronic Newsletter:
Click here to view our newsletter and our archives.
Field Trips
Download a printable copy of the field trip schedule so that you can start planning. There are several outings that require reservations and have limited slots so they will be on a first come, first serve basis.
2017 - 2018 Field Trip Schedule
January Meeting - Plants For Birds
Opportunities For Volusia County
Monday, January 22, 2018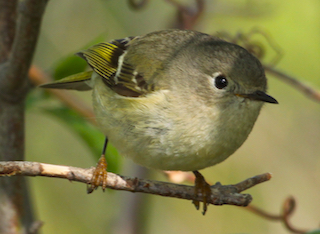 Halifax River Audubon (HRA) will host a presentation by
Tod Winston, Program Director for Audubon's Plants-for-Birds
. We see this as a great opportunity to rekindle and/or start conversations around the many benefits of plants that are supportive of birds and other wildlife.
When making your plans to attend the meeting, please think of others in the community responsible for landscaping our communities, including HOA representatives and civic planners and extend an invitation to have them attend, also.
Doors open at 6:30 p.m. at Sica Hall, 1065 Daytona Avenue, Holly Hill.
For more information about Audubon's native plant initiative, please check their website for details. In addition to the great information on the site, you can generate a list of plants that are specific to our area.
Shearwaters and Northern Fulmars.....
The Seawatch at Tom Renick Park in Ormond Beach is going strong. Harry Robinson has been peering across the waves for almost 2 years now and this September and October have been the most exciting reports to date. Take a look at the October Report and you will be compelled to drop by the watch some morning. Harry welcomes company. Bring your scope to follow along as the birds can move very fast. It's like a pelagic trip without the swells.
In addition to Ormond Beach, Harry has joined with Kim Ramos and Sam Krah on Tuesday afternoons at Dunlawton Bridge. Together they have compiled their observations into a concise spreadsheet that is available now on the website. They have been meeting at 4PM, but may "Fall Back" to 3PM with the time change.
As always, the complete series of reports for the Lake Apopka Restoration area and for Audubon Park are archived here on the website.
Other News:
2018 Florida Scrub-Jay and Wildlife Festival
The Lyonia Environmental Center at 2150 Eustace Avenue, Deltona will host this annual event on February 3. For more information Scrub-Jay Festival
FL SUN is now Solar United Neighbors of Florida
If you have been interested in transitioning to solar power, but were concerned about the process and the cost, Solar United Neighbors of Florida can help you. This organization has the answers and a unique strategy to leverage buying power to get the best price - co-operative purchasing. Check here for more info. Be sure to go to the Volusia County link for specific information for your area.
21st Space Coast Birding Festival
Registration for the festival has opened and the catalog of this season's field trips and lectures are available now. Click here for the link.