Welcome to Halifax River Audubon, the oldest and largest of the three Audubon chapters in Volusia County, Florida. We offer a variety of information and services to our members and the community at large.

The Pelican, Newsletter of Halifax River Audubon:
Click here to view our newsletter and our archives.
The Advocate
The Advocate is Audubon Florida's monthly newsletter featuring up-to-the-minute developments in environmental issues.​ Read previous editions below and
sign up to receive the Advocate
for yourself.
HRA Chapter Meeting
Monday, May 21, 2018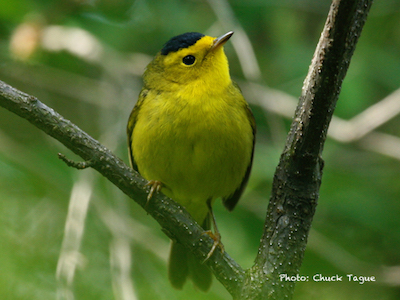 The Mysteries of Bird Migration
Michael Brothers

As we sleep during a peaceful night in early May, an unseen drama is taking place in the dark skies above us. It is a time when literally billions of birds are on the move, migrating from their winter homes to the more northerly breeding grounds. These massive flights involve so many birds that they are even visible on radar. And yet this is only a small part of the story. While we are familiar with the migrating songbirds heading north to fields and forests in the United States and Canada, millions of shorebirds are headed all the way to the Arctic tundra to nest. Much more is happening on a global scale. Seabirds such as Cory's Shearwaters are traveling from their breeding islands off the northwest coast of Africa and are found offshore off Volusia County. Wilson's Storm-Petrels breed on islands off of the edge on Antarctica and yet in mid-summer we can find hundreds of them just offshore of Volusia County. Throughout the world there are countless dramas playing out as billions of birds move around the globe. How do they find their way? Scientists have been working on solving these riddles for many years and new insights each year are shedding light these remarkable animals. This lecture will explore these worldwide movements and introduce some of the new understandings of the mystery of bird migration.
Mr. Brothers is recently retired as the Director of the Marine Science Center in Ponce Inlet, Florida, where he has worked since 2004. He is the former director of museums in Florida and Georgia and has worked as a professional interpretive naturalist for over 40 years.
Mr. Brothers has been studying Florida birds for the last 45 years and has been leading pelagic birding trips off of Florida and Georgia for the last 12 years. These trips extend to the Gulf Stream and even out 100 miles to the 3,000 foot deep canyons beyond the Gulf Stream. Mr. Brothers has extensive natural resource and natural science interpretive experience including specializations in the bird life and flora of Central Florida, as well as leading birding tours throughout Florida, the Okefenokee Swamp, the Galapagos Islands, Kenya, Machu Picchu and the Amazon. Mr. Brothers' research specialty is in the coastal and oceanic birds of Florida. He is the Florida editor for the journal "North American Birds." He is also a former member of the Florida Ornithological Society Records Committee, which evaluates reports of birds recorded in the wild in Florida and is responsible for updating the scientific record of Florida's avifauna. He is currently conducting a research project on Lesser Black-backed Gulls to discover the breeding location of the birds we see in North America.
The meeting is May 21st, 2018 at Sica Hall, 1065 Daytona Ave, Daytona Beach, FL 32117. Doors open at 6:30 p.m. and the meeting begins at 7:00 p.m. We hope to see you there!
Shearwaters and Northern Fulmars.....
The Seawatch at Tom Renick Park in Ormond Beach is going strong. Harry Robinson is compiling an impressive record of the birds that are seen from this beachside park, both from landside and over the ocean. These reports are available on our website. Harry welcomes company while observing. Bring your scope to follow along as the birds can move very fast. It's like a pelagic trip without the swells.
In addition to Ormond Beach, Harry has joined with Kim Ramos and Sam Krah on Tuesday afternoons at Dunlawton Bridge. Together they have compiled their observations into a concise spreadsheet that is available now on the website. They have been meeting at 4PM, but may "Fall Back" to 3PM with the time change.
As always, the complete series of reports for the Lake Apopka Restoration area and for Audubon Park are archived here on the website.
Other News:
Plants For Birds
We had a great turn out for our January meeting where Tod Winston, the Director of the Plants for Birds program at National Audubon spoke. For more information about Audubon's native plant initiative, please check their website for details. In addition to the great information on the site, you can generate a list of plants that are specific to our area.