Welcome to Halifax River Audubon, the oldest and largest of the three Audubon chapters in Volusia County, Florida. We offer a variety of information and services to our members and the community at large.


The Pelican, Our Monthly Electronic Newsletter:
Click here to view our current newsletter and our archives.
Our Field Trips Have Started
Download a printable copy of the field trip schedule so that you can start planning. There are several outings that require reservations and have limited slots so they will be on a first come, first serve basis.
2017 - 2018 Field Trip Schedule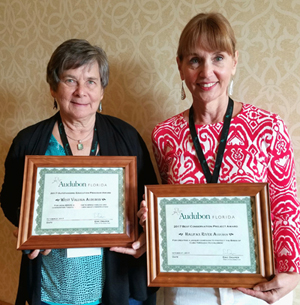 Halifax River Audubon and West Volusia Audubon
Honored at recent Audubon Assembly
Click here for more in formation and photos.
November Meeting - Florida's Aquatic Preserves

Deborah Shelley is the manager of the Florida Department of Environmental Protection's Wekiva River and Tomoka Marsh Aquatic Preserves. She has been recognized as the 2017 Resource Manager of the Year Award for her dedication to habitat restoration and stewardship of state lands She is our speaker for our November 20 meeting and will cover the wildlife, plants, water quality, and restoration activities associated with aquatic systems of Tomoka Marsh Aquatic Preserve, including the Tomoka River, Bulow Creek, the Tomoka Basin, Halifax River, and Halifax islands. She will also review the recently adopted management plan for Tomoka Marsh Aquatic Preserve.
The public is welcome to attend the meeting November 20th at Sica Hall, 1065 Daytona Ave, Daytona Beach, FL 32117. Doors open at 6:30. Meeting begins at 7:00 p.m.
Shearwaters and Northern Fulmars.....
The Seawatch at Tom Renick Park in Ormond Beach is going strong. Harry Robinson has been peering across the waves for almost 2 years now and this September and October have been the most exciting reports to date. Take a look at the October Report and you will be compelled to drop by the watch some morning. Harry welcomes company. Bring your scope to follow along as the birds can move very fast. It's like a pelagic trip without the swells.
In addition to Ormond Beach, Harry has joined with Kim Ramos and Sam Krah on Tuesday afternoons at Dunlawton Bridge. Together they have compiled their observations into a concise spreadsheet that is available now on the website. They have been meeting at 4PM, but may "Fall Back" to 3PM with the time change.
As always, the complete series of reports for the Lake Apopka Restoration area and for Audubon Park are archived here on the website.
Other News:
FL SUN is now Solar United Neighbors of Florida
If you have been interested in transitioning to solar power, but were concerned about the process and the cost, Solar United Neighbors of Florida can help you. This organization has the answers and a unique strategy to leverage buying power to get the best price - co-operative purchasing. Check here for more info. Be sure to go to the Volusia County link for specific information for your area.
Lake Apopka Wildlife Festival and Birdapalooza Birding Festival
January 18-21, 2018
Sponsored by Orange Audubon, this festival centers its activities on the northwest side of the Lake Apopka North Shore. It has become increasingly popular and has expanded to Thursday through Saturday. There 20 great field trips planned. Out of town birding super stars that will be leading are Greg Miller, Clay Taylor (Swarovski Optik), and David Simpson, plus some fantastic local leaders, including Bruce Anderson, who co-wrote the Bird Life of Florida.
There is no registration fee and trip prices (all donations to our nature center fund) are very reasonable.
The festival is a fund-raiser for Orange Audubon Society's long-planned Nature and Environmental Education Center on the Lake Apopka North Shore, as well as a way to prove that Birding Ecotourism is a real thing.
For more information follow this link to the official website.
21st Space Coast Birding Festival
Registration for the festival has opened and the catalog of this season's field trips and lectures are available now. Click here for the link.