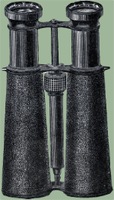 Binocular Information
Choosing binoculars can be a daunting process for beginning birders and veterans alike. Past classes have had many questions about this very import tool. Here are some links that provide information about binoculars and explain what the specifications mean to performance. We are providing these links for your information and do not endorse one brand over the other. During the field trips we will have several guides on hand that can share their experiences in finding the right binoculars.
These links are small articles about binoculars...
Audubon's Binocular Reviews - by price range. Great resource.The article is 3 years old, so some of the models have changed, but it is still very informative.
This link is an excellent video from Adventure Education. It's casually produced, but it covers all of the basics.
For many years a company called Eagle Optics provided a point of sale at bird festivals all across the United States. They have since closed up shop, but their excellent videos live on in YouTube. It's like a small course on Optics, with each video focusing on one aspect of binocular design.
Magnification - What do the numbers mean?