David Hartgrove will take us on a tour of this South Florida hotspot. Click for more info and join us for the adventure.
At the March chapter meeting we learned about a friendly, exciting competition.
The City Nature Challenge
is coming to Volusia County. If you already use iNaturalist, you are ready to participate. The goal is to accumulate as many observations of natural, living organisms. The next goal is to get the most people engaged. Finally, the last goal is to see what metropolitan area can identify the most species. It's a celebration of biodiversity the plays like a game. So go out with your smart phone equipped with iNaturalist or your digital camera camera and start snapping away. For more info, check these links:
General Information
https://citynaturechallenge.org
Our local project within iNaturalist
https://www.inaturalist.org/projects/city-nature-challenge-2022-volusia-county
Our quick take on how to get started
/HRA-March-Chapter-Meeting-7-9887.html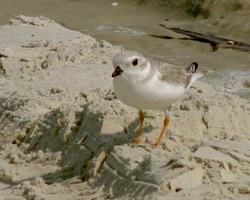 "The Pelican" Newsletter
Click here to view our newsletter and our archives.
Learn About Halifax River Audubon and More:
Information for all of our activities will be available on this website in our Calendar. Check often for new events and updates on those already scheduled.
We are on MeetUp! Our local outings will be posted there regularly.
Plants For Birds - For more information about Audubon's native plant initiative, please check the link below for details. In addition to the great information on the site, you can generate a list of plants that are specific to our area.
Audubon Adventures - Learn about this elementary school program in Volusia County and see how you can help
Cuba Coloring Book Project - Learn about this exciting endeavor and buy a book or two
The Advocate - is Audubon Florida's monthly newsletter featuring up-to-the-minute developments in environmental issues.​ Read previous editions below and sign up to receive the Advocate for yourself.
Pájaros Sin Fronteras (Borderless Birds) - Megan Martin, Carlos Correa Encarnacion and Jake Dudley have created a documentary that will compares and contrasts birds and the birding community in Central Florida and Puerto Rico. Both areas present challenges to avian survival from natural disasters to rampant development. Yet, birding survives and thrives, creating an economic boost that can be felt in both areas. Follow their journey.