Welcome to Halifax River Audubon, the oldest and largest of the three Audubon chapters in Volusia County, Florida. We offer a variety of information and services to our members and the community at large.
Our first meeting and field trip are almost upon us as summer winds down. Our calendar is filling with events. Check out what is planned for this year in the calendar.
Field Trip Schedule - Download the PDF
The schedule and location have been set for this Fall's Birding class. The Ormond Beach Environmental Discovery Center will be the location for the Tuesday evening classes. A Saturday field trip will follow each class with destinations to be determined. Class size is limited, so apply early. Come for one week , or come for all three and save.
Click here for more information and an application.
"The Pelican" Newsletter
Click here to view our newsletter and our archives.
New places to visit on our website:
Birding Away From Home - a list of upcoming events both near and far
Audubon Adventures - Learn about this elementary school program in Volusia County and see how you can help
Cuba Coloring Book Project - Learn about this exciting endeavor and buy a book or two
Chapter Membership - Sign up on line
The Seawatch Report for 2018 for
Tom Renick Park is now available
Harry Robinson has compiled an impressive record of the birds that are seen from this beachside park, both from landside and over the ocean. Harry welcomes company while observing. Bring your scope to follow along as the birds can move very fast. It's like a pelagic trip without the swells.
Halifax River Audubon has established a matching fund to help defray the cost of the hard copy publication of his annual observations. Learn more about this fund and how you can help.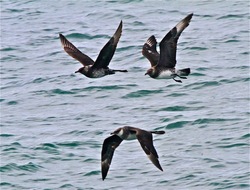 In addition to Ormond Beach, Harry has joined with Kim Ramos and Sam Krah on Tuesday afternoons at Dunlawton Bridge. Together they have compiled their observations into a concise spreadsheet that is available now on the website. They meet late in the afternoon around 4 pm in the summer.
Harry has published the final volume of his extensive studies of the Lake Apopka Restoration Area in Zellwood. This work provides an overview of 19 years of observations at the site. The complete series of reports for the Restoration area and for Audubon Park are archived here on the website.
Other News:
Come out and support our outreach programs at two events...

Natural History Day at MOAS
"Plant This Not That" at North Peninsula State Park

Learn Why the Indian River Lagoon Matters from Dr. Duane De Freese

Halifax River Audubon has chosen the IRL as a strategic priority. To kick off our new year, we invited Duane De Freese, Ph.D., Executive Director of the IRL Council & Indian River Lagoon National Estuary Program to speak on the issues and plans to restore this vital resource. His presentation is available on our web site.
The Advocate

The Advocate is Audubon Florida's monthly newsletter featuring up-to-the-minute developments in environmental issues.​ Read previous editions below and

sign up to receive the Advocate

for yourself.

Plants For Birds

For more information about Audubon's native plant initiative, please check the link below for details. In addition to the great information on the site, you can generate a list of plants that are specific to our area.