Welcome to Halifax River Audubon, the oldest and largest of the three Audubon chapters in Volusia County, Florida. We offer a variety of information and services to our members and the community at large.
Tuesday, February 19, 2019
Right Whales -
On the Brink or Just Nature's Cycle?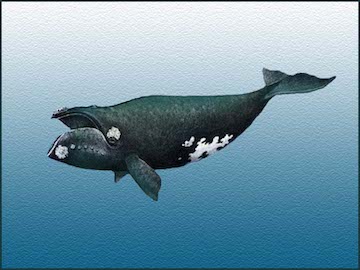 Gallery owner, author, and conservationist Frank Gromling will share the latest information about North Atlantic right whales when he speaks to our chapter on Tuesday, February 19, at 7:00 pm.
A Very Special Event at the Palm Coast Feather Fest
National Audubon Society executive David Ringer who was on the front lines of the 2010 BP oil spill for Audubon, will speak about humans' impact on birds and how people can work together to protect their future at the City of Palm Coast's upcoming Birds of a Feather Fest. If you want to hear the talk you must register. Click here for more information
It's almost time for the Great Backyard Bird Count
Mark your calendars! On February 16, 2019, from 10AM to 2PM, Halifax River Audubon will partner with the Ormond Beach Environmental Discovery Center for a super event celebrating birds. There will be games, guided walks, information tables on birds and plants, crafts, observation stations in Central Park in Ormond Beach and more. This is a great family event and we hope you will join us for the fun. Click here to download the Ormond Beach City Flyer (GBBC19.pdf)
New places to visit on our website:
Birding Away From Home - a list of upcoming events both near and far
Audubon Adventures - Learn about our work in Volusia County and see how you can help
Cuba Coloring Book Project - Learn about this exciting endeavor and buy a book or two
Chapter Membership - Sign up on line
The Seawatch at Tom Renick Park in Ormond Beach is going strong. Harry Robinson is compiling an impressive record of the birds that are seen from this beachside park, both from landside and over the ocean. These reports are available on our website. Harry welcomes company while observing. Bring your scope to follow along as the birds can move very fast. It's like a pelagic trip without the swells.
In addition to Ormond Beach, Harry has joined with Kim Ramos and Sam Krah on Tuesday afternoons at Dunlawton Bridge. Together they have compiled their observations into a concise spreadsheet that is available now on the website. They have been meeting at 4PM, but may "Fall Back" to 3PM with the time change.
Harry has just published the final volume of his extensive studies of the Lake Apopka Restoration Area in Zellwood. This work provides an overview of 19 years of observations at the site. The complete series of reports for the Restoration area and for Audubon Park are archived here on the website.
Other News:
Learn Why the Indian River Lagoon Matters from Dr. Duane De Freese

Halifax River Audubon has chosen the IRL as a strategic priority. To kick off our new year, we invited Duane De Freese, Ph.D., Executive Director of the IRL Council & Indian River Lagoon National Estuary Program to speak on the issues and plans to restore this vital resource. His presentation is available on our web site.
The Advocate

The Advocate is Audubon Florida's monthly newsletter featuring up-to-the-minute developments in environmental issues.​ Read previous editions below and

sign up to receive the Advocate

for yourself.

Plants For Birds

For more information about Audubon's native plant initiative, please check the link below for details. In addition to the great information on the site, you can generate a list of plants that are specific to our area.