Winter and spring activities are being scheduled at this time. Details for each of the activities will be available on this website in our Calendar and on our MeetUp page in advance of each event. As always, check back often for changes and adjustments to the calendar.
You will note that for the Chapter Meetings we will continue in the virtual format. This will remain in effect for the near term until the pandemic threat subsides.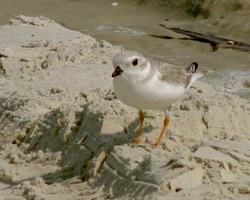 "The Pelican" Newsletter
Click here to view our newsletter and our archives.
Learn About Halifax River Audubon and More:
Birding 101 - Formal classes have been suspended for awhile, but check our page with tips and info to help you improve your birding experience. Additionally, there will be free field workshops offered throughout the year specifically geared for beginners and those who want to review the basics. Sessions will be listed in the calendar and in MeetUp
Plants For Birds - For more information about Audubon's native plant initiative, please check the link below for details. In addition to the great information on the site, you can generate a list of plants that are specific to our area.
Audubon Adventures - Learn about this elementary school program in Volusia County and see how you can help
Cuba Coloring Book Project - Learn about this exciting endeavor and buy a book or two
The Great Backyard Bird Count 2021 - We partnered with the Ormond Beach Environmental Discovery Center (OBEDC) and conducted a fun event with games and prizes and guided walks and opportunities to get up close to birds in Central Park. This year presented challenges and the park event was canceled...but we found ways to participate and get the community involved. Check the results and videos.
The Advocate - is Audubon Florida's monthly newsletter featuring up-to-the-minute developments in environmental issues.​ Read previous editions below and sign up to receive the Advocate for yourself.
Pájaros Sin Fronteras (Borderless Birds) - Megan Martin, Carlos Correa Encarnacion and Jake Dudley have created a documentary that will compares and contrasts birds and the birding community in Central Florida and Puerto Rico. Both areas present challenges to avian survival from natural disasters to rampant development. Yet, birding survives and thrives, creating an economic boost that can be felt in both areas. Follow their journey.