Event Description
Please join us at our next informative meeting. If you are interested in birds and nature in Central Florida and beyond, this is the place to be...
Doors open at 6:30 p.m. at Sica Hall, 1065 Daytona Avenue, Holly Hill. The presentation begins at 7:00 p.m. A brief business meeting follows.
This spring, WFSU Public Media is undertaking an ambitious ecology outreach, education, and media project called EcoCitizen. The project challenges community members to actively engage with nature through citizen science, and to integrate their homes with surrounding wild spaces by landscaping for wildlife. The first phase of the project will culminate with EcoCitizen Day, a Tallahassee/ Leon County City Nature Challenge Event, which will see hundreds of families descend on city parks and the Apalachicola National Forest to participate in citizen science projects. WFSU Producer Rob Diaz de Villegas talks about creating this kind large scale project centered on the video production work he's been doing.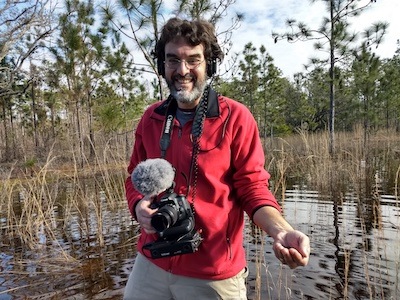 Rob Diaz de Villegas is WFSU Public Media's Ecology Producer. After years of producing live music shows and music documentaries, Rob found himself in a salt marsh, following marine biologists with a camera. From then on he was hooked on outdoors and ecology stories. His WFSU Ecology Blog has served as a platform for several related WFSU Ecology Projects, including the National Science Foundation funded In the Grass, On the Reef, EcoShakespeare, and Roaming the Red Hills. When not covering the outdoors for WFSU, Rob tries to get out there as often as he can with his wife and two sons.