I am a third generation naturalist. My grandfather founded the British (Empire) Naturalist's Association and my father wrote nature articles for the Times of London newspaper. Then there is me. I have been birding from the moment I could walk. I remember the Nightingale that sang at night in the garden, the Tree Pipit and Wood Warbler that I heard and saw on walks with my father. I have been an addict all my life.

I was educated at Christ's Hospital (the Blue Coat School). School did not interest me, but birding did; that is another way of admitting that I never went to college. I worked in a bank for ten years until they wanted to move me into a dangerous location (the female staff had to have a male escort on and off the premises). So I resigned and I moved from the London area to Cornwall and took a year off to go birding at the government's expense. During the time at the bank I would spend every weekend on the Sussex coast birding. A group of us slept in a hut made out of doors! That was definitely an education. When it came to vacation time I migrated west to the Isles of Scilly, a group of small islands out in the Atlantic and this became my spiritual home.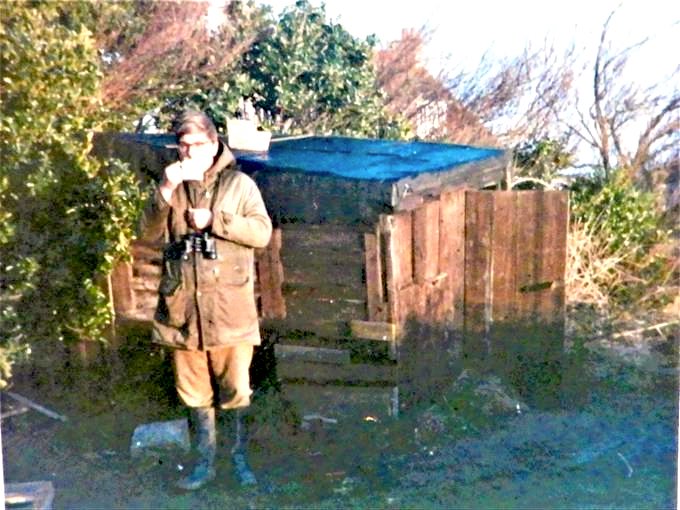 On the island of St.Agnes there was a bird observatory but being contrary as usual I stayed on the main island of St.Mary's. Initially there were perhaps five of us on the main island but over the years the numbers in October built up to over 1000 at a time. The BBC used to send a film crew down each year. I hid behind the cameraman. I also somehow became one of the "leaders" of this motley gathering and co-Editor of the bird report that is until my co-editor (David Hunt) was killed and eaten by a tiger whilst leading a bird tour in India; then I was on my own for a few years. I was also the Scientific Officer of the county bird-watching society.

After the yearlong sabbatical I had to get a job as the government cut my money back sharply. So I went to work for the government in one of their offices in Penzance, Cornwall. Having been promoted to the rank of Executive Officer for some years I was a National Insurance Inspector (a kind of tax collector) and guess what - my territory included the Isles of Scilly. I also managed legally to get seven weeks of leave a year all of which I spent on the islands.

I had a friend called Bernard King in Penzance who died at sea off the Florida coast whilst visiting his daughter in Winter Park. When she came over to Cornwall to help deal with her father's estate I was there helping to deal with his extensive library. So I sold my house, gave up my career and came to Florida. I had been imported. We were married in February, 1999. After some five years she became ill with diabetes and congestive heart failure so I became a nurse. As a thank you she tried to arrange for me to go on one of Wes Biggs's trips to the Dry Tortugas but that did not work out so I went on a seaplane trip to the fort instead. On the return journey the single engine ceased and we headed down. The sea was rough and the waves big and we broke a pontoon. There was time to put on a life vest but there was no raft so we had to swim. I nearly drowned (a doctor who was swimming with me gave me 30 minutes to live) before we were rescued by the coastguard. In reality it was pure luck that we were found. I did not get in a plane for a long time after that.

Because I was looking after her seven days a week she wanted me to do some birding so on August 15, 1998 she arranged with Wes for me to go to Lake Apopka to attend a meeting that Audubon was having with St.Johns River Water Management District. In reality it was a day birding the then flooded fields followed by a meeting. The Audubon team was led by Giann Basilli. It became clear that the birders did not know much about the birds of Lake Apopka so I am not sure how or why but I volunteered to carry out a monthly survey; after two months that became twice a week.
My wife died in September, 2005 and I later increased the surveys to three times a week. Initially this survey was done as a volunteer but I later became a contractor. Towards the end of the project, it dropped back to two days a week and I spent the other days at Tom Renick County Park.
Harry Robinson