For over 20 years...
Harry Robinson has studied and counted the birds of Central Florida. He generously shares this extensive body of work on our web site.Included are studies from the Lake Apopka Restoration area, Audubon Park in Volusia County and most recently sea watch observations along the coast in Ormond Beach. (Studies can be accessed from the menu on the left and below)
Studies Available
The Dunlawton Bridge Spreadsheet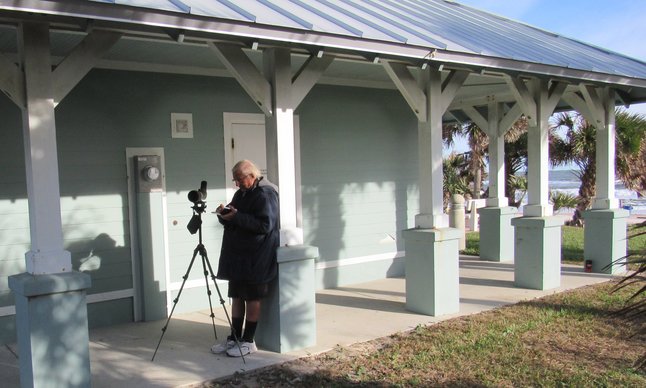 My name is Harry Robinson and I live in Ormond Beach. I state this as many of you will not know me. For some 30 years in England I spent my free time watching and counting sea birds. When I came here I did do a series of sea watches at Canaveral National Seashore but there was nothing systematic about them. For the last 18 years I have been monitoring bird populations at Lake Apopka and from January 1st. This year I have added Tom Renick Park, so I am returning to my roots. For the last five years I have carried out a static sea watch at that park as part of the Halifax River Audubons Christmas Bird Count that data is included in the general spreadsheet that I have prepared.

I intend where possible to carry out these sea watches on Wednesday, Friday, Saturday and Sunday mornings from say 15 minutes before sunrise for a minimum period of five hours a day. You are all welcome to join me but I do have to ask that where possible you bring a telescope - this is one situation where sharing a telescope does not work. Each month I will provide a summary of what I saw during the month. As this is the beginning of the survey I will not always be able to put everything into perspective.
(The schedule can change and Harry also adds extra days during periods of peak movement. You can confirm if he will be watching at: sirharrydeland@gmail.com )