For over 20 years...
Harry Robinson has studied and counted the birds of Central Florida. He generously shares this extensive body of work on our web site.Included are studies from the Lake Apopka Restoration area, Audubon Park in Volusia County and most recently sea watch observations along the coast in Ormond Beach and from the Port Orange Causeway Park under the Dunlawton Bridge. (Studies can be accessed from the menu on the left and below)
Studies Available
The Dunlawton Bridge Spreadsheet
The Dunlawton Bridge Summary 2017 - 2021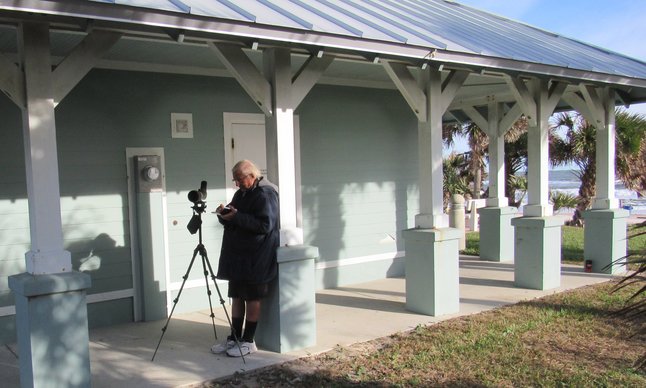 My name is Harry Robinson and I live in Ormond-by-the-sea across the road from Tom Renick County Park. For some 30 years in England, I spent my free time watching and counting seabirds. When I came here in the 1990's I did a total of 90 sea watches at Canaveral National Seashore (south of Bethune Beach). Later I spent 19 years counting birds in the eastern 10,000 acres of the Lake Apopka North Shore Restoration Area. From January 1, 2016 I started carrying out a survey at Tom Renick County Park on the days I did not work at Lake Apopka. From the 1st August, 2017 I moved from DeLand to Ormond-by-the-sea and the survey at Tom Renick was now daily. At that time, I did five hours a day at the park starting some 15 minutes before sunrise. With the onset of Covid 19 the district closed the park and until the park reopened, I watched for two hours a day from the condominium parking lot to the south. At the end of the two hours, I transferred to my apartment and watched with the telescope for all bird activity towards or over the river. Even when the park opened again, I continued to watch from my apartment as I had a much better view. This all means that the sea watching may be as little as two hours a morning. If there is a heavy passage, I will continue the sea watch for up to ten hours.
You are welcome to join me but I have to ask that where possible you bring a telescope this is a situation where sharing a telescope does not work. Each month I provide a monthly report and the regular visitors now get a daily report to.